Welcome to Fusion Studio of Dance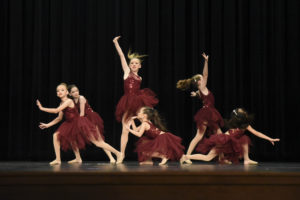 Welcome to Fusion Studio of Dance!  We are thrilled to partake in another stellar season with you.

Please be sure to read all "About Us" and re-familiarize yourself with our fantastic instructors and meet our new instructors under "bios."  We are sure you are going to love our staff as much as we do.
Our current class schedule is now closed, but feel free to contact the studio to learn of any new openings or workshops available.
 If you have any questions, we are here to help!
Reach us at fusionstudioofdance@yahoo.com, 740-407-1174 or stop by the studio.

---
Classes for Tuesday, January 16 have been cancelled due to weather conditions.

---

Nutrition is the base for everything in life…to how we feel on a daily basis to how we perform. One of Miss Angie's favorite quotes is "What you find at the end of your fork is more powerful than anything you'll find at the bottle of a pill bottle." – Dr. Mark Hymen. Miss Angie is very passionate about proper nutrition and educating her students how to fuel their bodies properly. In addition to selling "Stronger.Faster.Healthier." (SFH) high quality grass-fed whey protein and high potency omega 3 fish oils, FSD is excited to expand our nutritional supplement line to include "Fat-Bombs."
From their website – "Fat Bombs" is a company out of Springfield, Oh that were created out of a need: To find a way to make HIGH quality, low carb, high fat snacks that don't require cooking and preparation. We've all been there, grabbing a protein bar or granola bar on the way out of the door because we were too hungry to wait for dinner. We did the same thing in between classes and on the way to the gym. However, it really stinks to get in a killer workout and meal prep every Sunday only to consume excess carbs and sugar from a "nutrition" bar. We tried everything… but the "paleo" bars and "low carb" bars were all full of sugar and carbs!!! As a result, we started to experiment with our favorite high fat ingredients to develop a paleo friendly nutrition bar. Combining high fat foods like MCT oil and cocoa butter with nut butters the Fat Bombs Nutrition product line was born. Currently, the product line features  Cashew Butter, Almond Butter, and Peanut Butter Bombs. Although peanut butter isn't technically paleo, it is delicious!"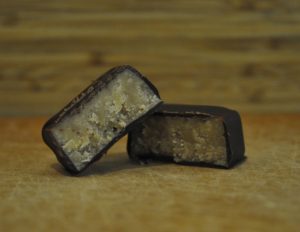 The fat bombs are delicious and full of nutrition.  A great snack for our dancer athletes to have in between classes or after a tough class to refuel without the blood sugar surge and plunge — with the resulting crash of energy — that carb heavy foods lead to.
A rich nut butter center, made using high quality MCT oil ( healthy medium chain triglycerides – found in coconut oil) and cocoa butter, covered in 72% organic dark chocolate. This isn't just any chocolate! They source responsible cocoa that is rainforest friendly and made without soy. The original Fat Bomb will fill you up without filling you out!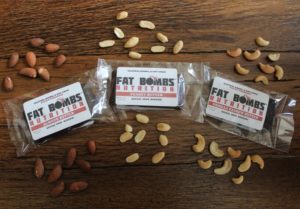 Flavors include Peanut Butter, Cashew Butter, and Almond Butter. Squares are $2.00 and large bars are $3.00. Can you say YUMMY?  YES!
Fat Bombs will be available at FSD starting next week!
---

At FSD, we build strong and talented dancers and gymnasts.  We believe in providing the right example by eating clean, whole, nutrient dense foods that will aid in giving our dancers and gymnasts the right nutrition and supplements to meet their goals on and off the dance floor.
FSD is proud to be a distributor of "Stronger, Faster, Healthier" – Whey protein is a pure, natural, high-quality protein from cows milk. Our whey protein is derived from grass fed, free range cows, which are never treated with… antibiotics or bovine growth hormones. It also contains no antibiotics, no hormones, no soy lecithin, no gluten, no artificial flavors and is non-GMO. The whey protein has a low lactose content, is low in cholesterol, and is high in calcium. It is an excellent protein choice for all ages including children and provides a number of benefits in areas including sports nutrition, weight management, immune support, bone health and general wellness. If you are concerned about you or your child's food choices, Pure whey has an 82% protein content it is an excellent choice to help kids grow up healthy and to recover from dance and gymnastics training. Miss Angie can even provide you with delicious fueling protein shakes and smoothies. The fish oil is also soy free, gluten-free, and sugar-free. It is extremely high strength, free of heavy metals. It also has optimal absorption do to free liquid and triglyceride form. Many people have experienced short, brittle nails getting stronger as well as skin and hair that glow without the use of moisturizers or creams.The combination of a clean diet and exercise, along with clean supplementation (high strength fish oil and high-quality grass fed protein) leads to long-term health by keeping your inflammation levels down and adding lean muscle. A big plus is knowing that both the protein and fish oil comes in a variety of delicious flavors, including lemon, orange, vanilla, chocolate, peppermint, and peach mango. Yum! Yum! Take this opportunity to try SFH products, to not only look great, but feel great and perform at your absolute best on and off the dance floor! Check out the price, along with more info at the studio.
---
Are you a dance professional interested in joining our team? Please contact the studio for possible job openings! 
---